Which Chakra Is Open / Blocked? 55 Question Chakra Test

How To Open & Heal All Seven Chakras
Often called the "seven doors to higher consciousness," understanding the chakra system is vitally important for those on the ascension path.
Before we tell you the very best way to open & heal all seven chakras, it's important to know which ones are blocked.
Test: Which Chakras Are Open? Which Are Blocked?
How To Fully Open All 7 Chakras
Would you like to have 100% healed, perfectly balanced, and wide open chakras?
The most important method of chakra healing for thousands of years, meditation opens the door to a limitless array of benefits with opening all 7 chakras just the start.
What Are The Best Chakra Opening Frequencies?
Some of the most popular and well-known chakra opening frequencies are built right into our EquiSync: Deepereum app, including 432hz, 528hz, 639hz, 741hz, 852hz, 963hz, and more. A great place to start is the soundscape selection page here (the free demo tracks have a green unlock icon).
In fact, many of the Deepereum demo soundscapes have these powerful carrier frequencies available for free, including Soundscape #14 (528hz), Soundscape #72 (852hz, 432hz), Soundscape #48 (639hz, 528hz, 432hz), Soundscape #95 (639hz), and many more.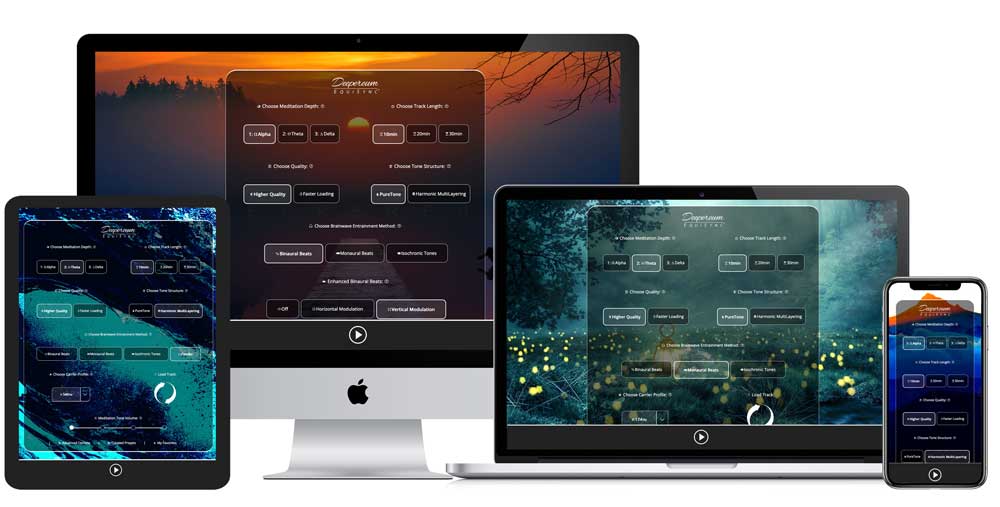 You can select the respective carrier frequency from the "Choose Carrier Profile" option. It's the 7th configuration option down the page within the track interface.
Above and beyond these powerful chakra opening frequencies are many other configuration options, including Meditation Depth (Theta is highly recommended for deep meditation), Tone Structure, Brainwave Entrainment Method, and more. EquiSync Deepereum is quite a powerful meditation program!
Anxiety, Depression,
& More

Intelligence, Memory,
& Learning

Happiness, Flow,
& Positivity

Success, Intuition,
Creativity, & Willpower

Consciousness,
Deep Mind, & More

Longevity & Life
Extension

Healing, Immunity,
Disease, & More

Stress, Pain,
Energy, & More
Feel The Power Of Deep Meditation. Discover EquiSync®
Feel The Power Of Deep Meditation.
Discover EquiSync®