The Ultimate Lucid Dream Technique: Why Meditation Is Key To Lucid Dreaming
Lucid Dreaming: The Ultimate Guide


Key Benefits, Techniques, & Tools
Did you know that there are people all over the world who have learned to, at will, become fully awake and aware while dreaming?
And with their highly capable "lucid" state of consciousness they can do mind-blowing things — including traveling to celestial planes of existence and interacting with a vast array of higher dimensional beings?
It's true. Once only practiced by the highly-trained and well-disciplined mind-masters of the world, a growing number of everyday people are learning basic lucid dream techniques and becoming very successful in their practice.
Before we tell you the very best way to go from beginner to lucid dream mastery, it's important to understand how different your life will be after learning this incredible skill:
Benefits of Lucid Dreaming
What's The Best Lucid Dream Technique?
Practiced by the world's most advanced mind-masters since the beginning of time, meditation multiplies your chance of lucid dream success 100 fold.
After all, a highly focused (yet equally calm) mind is what's required to successfully do a "reality check" (the doorway to becoming "lucid" while dreaming) — there's really no better way than meditation to hone that skill. Meditation is essential!
The only choice the aspiring lucid dreamer has is which meditation techniques / tools to use in their respective practice.
What's The Best Meditation Tool For Successful Lucid Dreaming?
Did you know that you can harness the power of sound for super deep states of meditation? EquiSync is designed to guide the user's brainwaves into a state of deep meditation, bringing the intended benefits much faster than the traditional route. For lucid dreaming specifically, we recommend EquiSync: Deepereum.
Some of the most popular and well-known lucid dreaming frequencies are built right into our EquiSync: Deepereum app, including 963hz, 852hz, 639hz, 528hz, and more. A great place to start is the soundscape selection page here (the free demo tracks have a green unlock icon).
In fact, many of the Deepereum demo soundscapes have these powerful carrier frequencies available for free, including Soundscape #14 (528hz), Soundscape #72 (852hz, 432hz), Soundscape #48 (639hz, 528hz, 432hz), Soundscape #95 (639hz), and many more.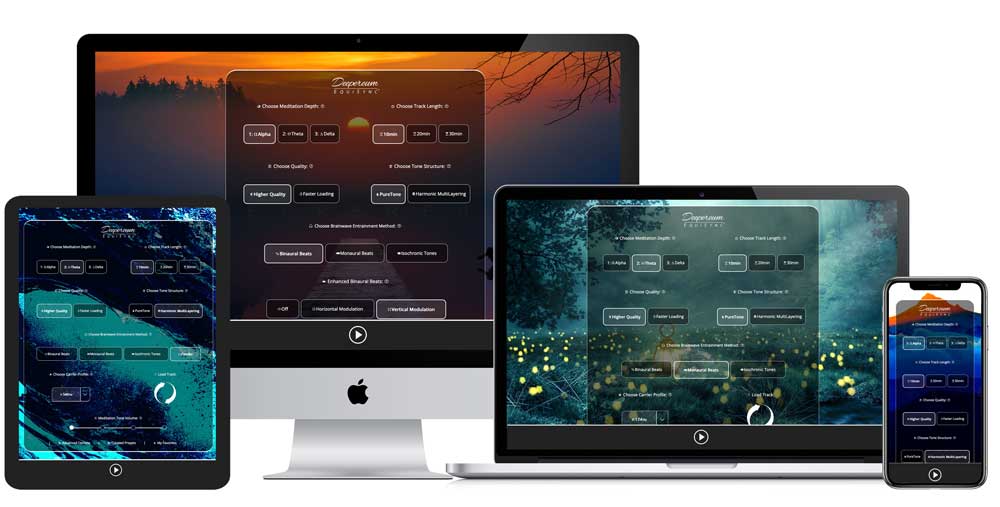 You can select the respective carrier frequency from the "Choose Carrier Profile" option. It's the 7th configuration option down the page within the track interface.
Above and beyond these powerful lucid dream frequencies are many other configuration options, including Meditation Depth (Theta & Delta Waves are highly recommended for lucid dreaming), Tone Structure, Brainwave Entrainment Method, and more. EquiSync Deepereum is quite a powerful meditation program!
Anxiety, Depression,
& More

Intelligence, Memory,
& Learning

Happiness, Flow,
& Positivity

Success, Intuition,
Creativity, & Willpower

Consciousness,
Deep Mind, & More

Longevity & Life
Extension

Healing, Immunity,
Disease, & More

Stress, Pain,
Energy, & More
Feel The Power Of Deep Meditation. Discover EquiSync®
Feel The Power Of Deep Meditation.
Discover EquiSync®